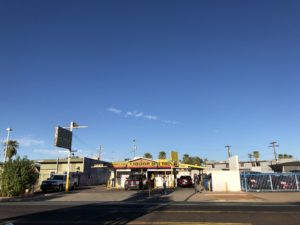 I wonder
What it is
We're making
Here
Together
In this land
Some of us call
America
And all of us call
Home
We were born here
Back at the very beginning
Before recorded time,
Or last week.
Or we came here
In boats and planes,
Free or in chains.
And together
We speak the meaning
Of this place
This time
Into existence
In 350 different languages
What has been promised to us?
And I wonder too
What it is
We're breaking
What we've already broken
That can never be repaired
What we've already taken
That we can never give back
Everything we've forced ourselves to forget
Our country's past
Built
On so many, many broken
…Backs
…Treaties
…Pipelines
Thoughts and prayers
What have we promised to each other?
Our future
Calls us
To make
Anew
In new ways.
The coming days
Call to us.
Will our Nation
Be worthy
Of our praise?
What truths will we now hold evident?
We the people
Created
Equal
Then
Parsed into pieces
Split in belief
Divided in color and money
Gender and body
By our own hand
Life is sacred they say
But
It's abundantly clear
Some lives matter
More,
Some walk the streets
Unafraid and able to breathe
And others
Serve
Only as fodder
For the cannons
Grist for the mill
Lady Liberty
Objectified
Raised up on a pedestal
Then discredited and dismissed,
She must've been "asking for it"
Like the rest of us
The pursuit of happiness
Made meaningless
By so many con artists
And pick up artists
And law of attraction webinars.
A word said so many times
It doesn't sound like itself anymore.
Happiness
Happiness
Happiness
A squeaking treadmill
In the gym next to the business center
Keeping us running
Forever
In place
We the people
Left
Holding a dimming torch
Self-evident truths
Gone
Missing in action
And now, in the course of human events,
We find ourselves here
In this time of contractions
What are we birthing?
Even in the face of swelling oceans
And melting ice
And leaking oil
I hold us all in hope
May we embody
The truths that reach out
From our roots
May we repair
Our tattered patchwork quilt
Re-weaving the ties that bind
May we write
An anthem
Sung in an every-language harmony
I hold us all in hope
As the child reaches out to grasp the hand
As the painter preps her canvas
As the sun rises one more time
Let us make
Amends
For what we have broken
Let us make
Reparations
For what we have taken
Let us make
Space
For all of our stories
Let us make
Homes
For all of our bodies
Let us make
A foundation
For our nation
A revitalization
Of our vision
Still
Holding out the possibility
Of our cohabitation
Each of us interconnected
Each of us created equal
A more perfect union
Of the people
By the people
For the people
The American Future,
Our unfinished work,
Begins
[/et_pb_text][/et_pb_column][/et_pb_row][/et_pb_section]