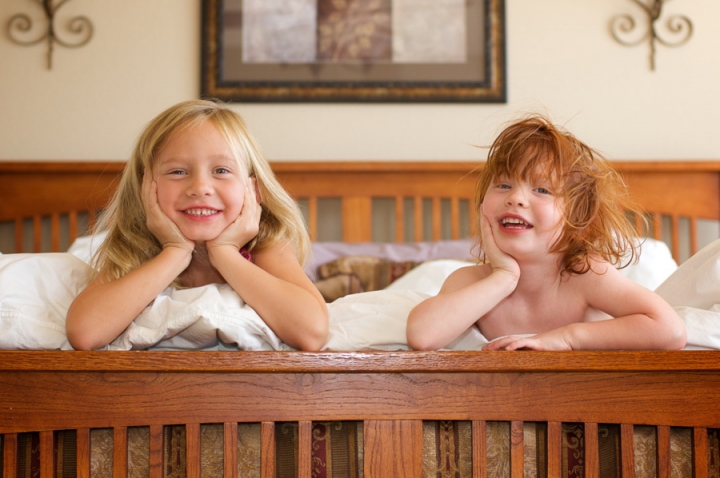 Your love for your family is vast and deep.
You know it. They know it. From the tips of their tiny toes to the end of each and every hair. Your love is precious and tender. Strong and wild. Constant and unconditional.
And yet, sometimes you get busy, busy, busy. Sometimes, you get to the end of your rope and snap (it's ok sweetie, it happens to all of us). And sometimes, for one reason or another, it just goes unsaid. You give them a kiss goodnight, and realize that this is the first time you've really seen them all day.
And sometimes, the love you feel is so big, it's hard to put it all into words.
Love Notes For Your Loved Ones, are a way to put down on paper all the things you love about the people you hold most dear.
Inspired by the process behind The Book of Love story gathering session, each hand-drawn frame contains a short prompt to guide you to the words in your heart. Think of them as an updated version of the "good for one hug" coupon books of our youth. Same heart-felt intention, but with a deeply meaningful message.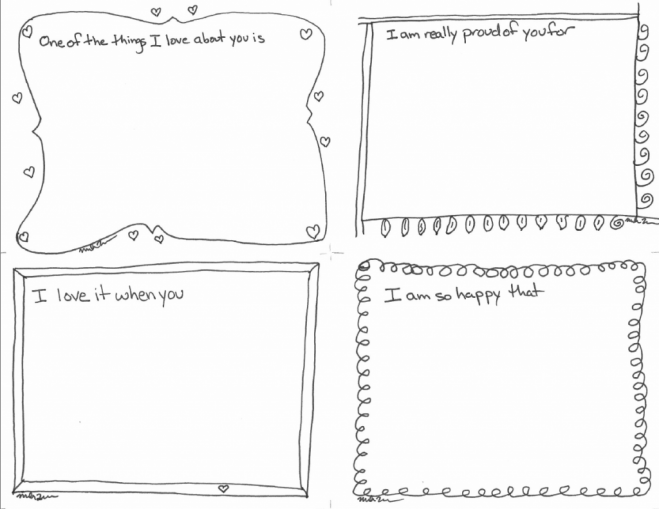 A sample page showing  four of the frames. Your download comes with 8 pages.
This complimentary set of 8 printable B&W sheets contains a month's worth of Love Notes ~ 26 fill-in-able prompts and 4 blank frames for you to fill in as you'd like. It also includes a cover page and a To/From page if you'd like to make them all into a book.
Print them out.
Fill them with your words.
Give voice to all the love that's in your heart.
Color them in. Or leave them in pure B&W.
Slip them in a lunch box or under a pillow. Or hide them around the house for your loved ones to find.
Give them one a day or all at once. Give them to your kiddos. Give them to your sweetie. Make a billion copies of just your favorite notes and give those over and over and over again.
Make them into paper airplanes. Turn them into wallpaper. Burn them and blow them out like a wish. Or collect them all into a wee little book.
How you choose to share your love is totally up to you.
 "I've been giving mine out to Abby every few days, leaving them in random places for her to find –taped to the cover of her piano book, on her bathroom mirror, stuck in her overnight bag for her camping trip, etc.  She never knows when she's going to get one, and she looks forward to finding them every so often." ~ Kylie
Pop in your email address and a month's worth of Love Notes will land in your inbox so you can start sharing the love right away.
(I also send out my own Love Notes twice a month to share my stories and images with you. If you want to hear stories and see images of my own kiddos, this is the place you can find 'em.)
Happy Note-making!

Update: I made a book of Notes for both of my kids for Valentine's Day. It was a really tender and meaningful experience that is still nourishing our family. Click here to read the story.